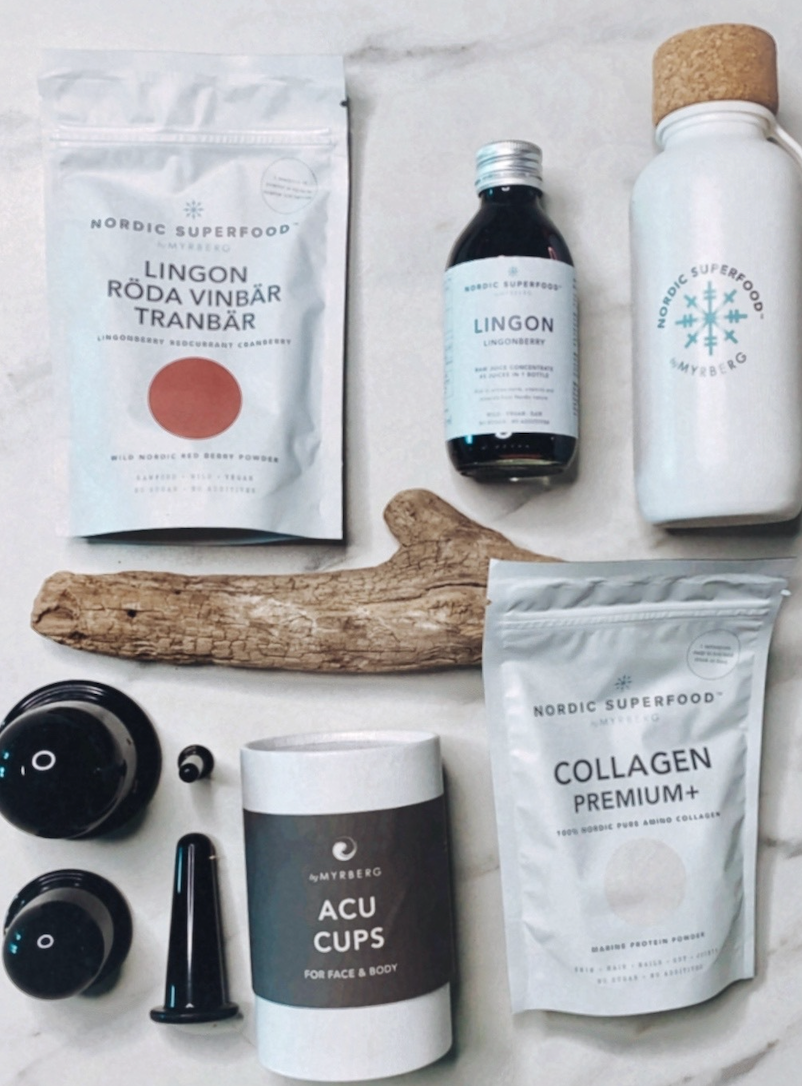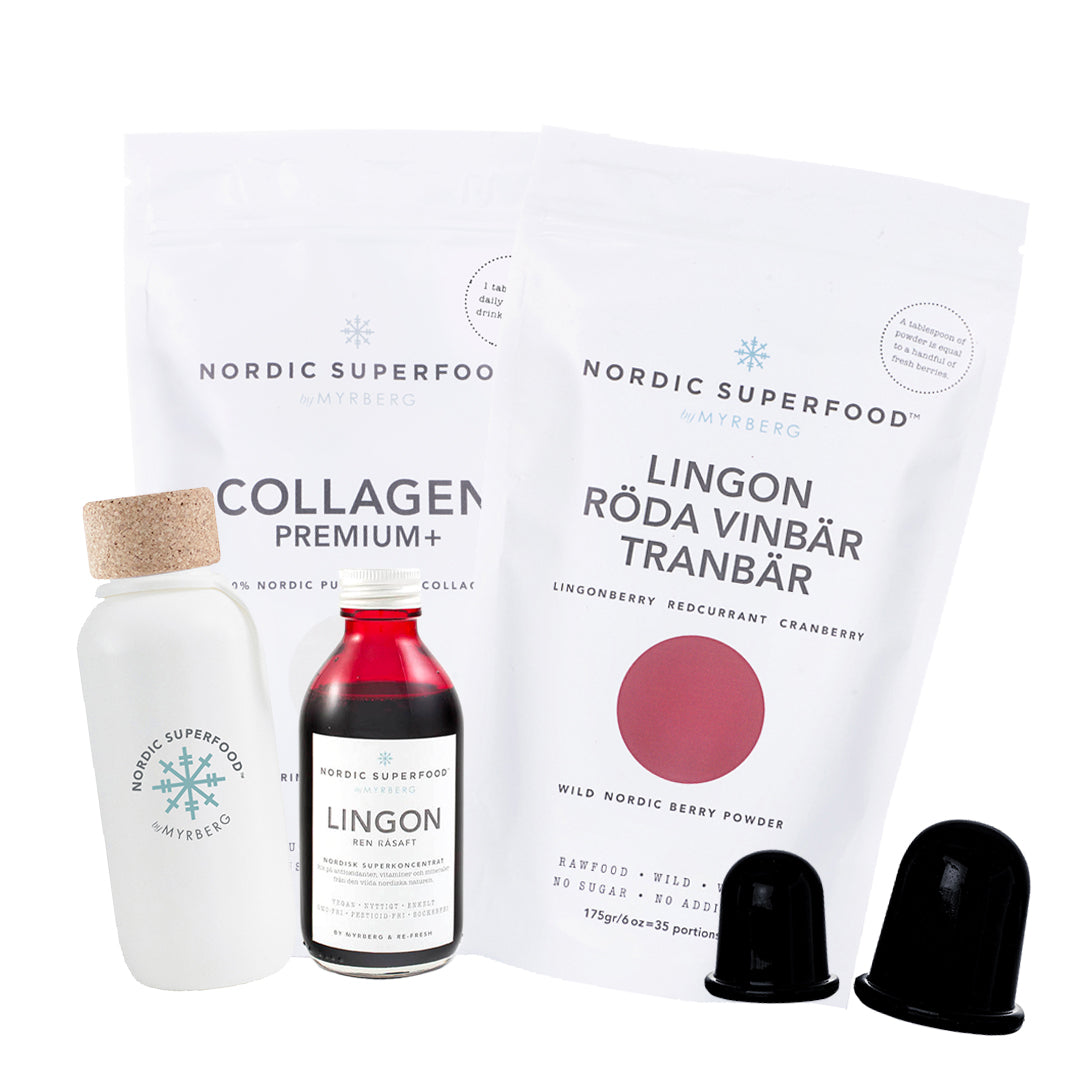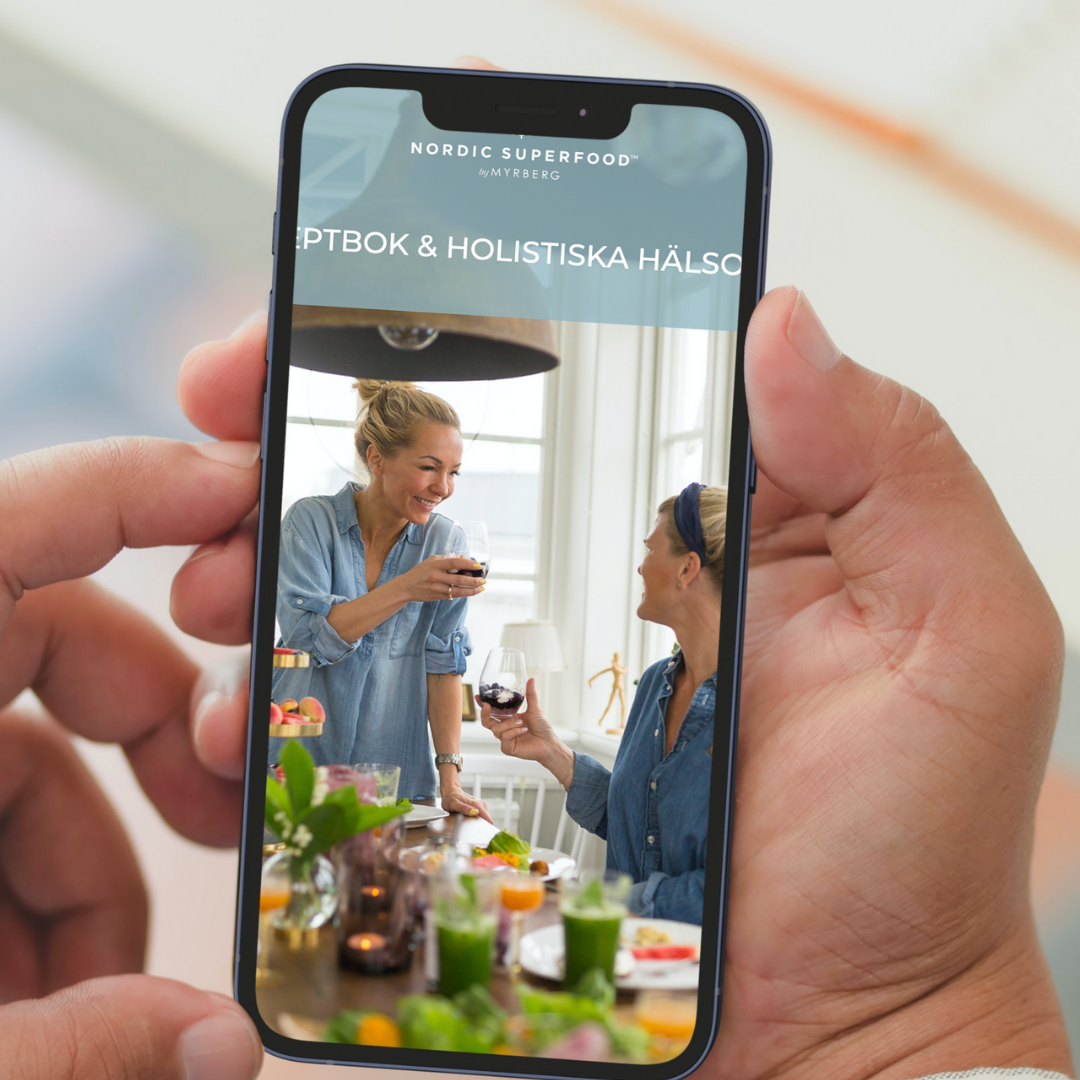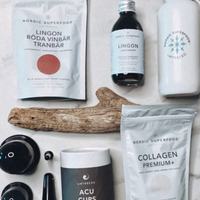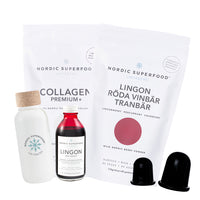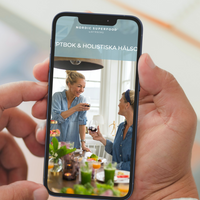 Five selected products put together in a package that boosts your energy, gives the skin more glow and increases the body's metabolism.
With Acu Cups, you can simultaneously create a facelift and increase blood circulation, and your new Health and Energy routine is complete.
Collagen Premium+ 80g
100% marine collagen with a documented effect against wrinkles and cellulite and gives increased radiance to the skin. Visible results after 8 weeks! Collagen is the skin's best friend. From the age of 25, the body's natural production of collagen and elastin begins to decrease and the collagen fibers become weaker. 

Red Berry Powder 80g
100% pure berry powder from wild, hand-picked Nordic lingonberries, cranberries and red currants. 
Red berries contain Resveratrol (plant chemical) and is a natural virus and poison fighter! The substance counteracts attacks by viruses, fungi, bacteria and toxins. Lingonberry has a proven effect on slowing down fat absorption in the body according to studies from Lund University!
Lingonberry Raw Juice Concentrate 195 ml.
Highly concentrated raw juice from wild, hand-picked Nordic lingonberries. Lingonberries are full of antioxidants called polyphenols that boost the immune system. Also contains a lot of resveratrol, which stops the effects of a fatty diet and slows down weight gain.
Acu Cups
The Acu Cups set contains 4 cups in different sizes for the face and body. Cupping is an alternative therapy where you use suction cups to stimulate your skin, connective tissue and muscles. 
Water bottle bioplastic
Made of bioplastic from sugarcane with natural cork and produced in Sweden. Perfect to use when you are in a hurry with our powders or raw juices!
Lingon råsaft blandas enkelt i din vattenflaska för ett gott dagligt vitaminvatten on the go eller komplettera dina måltider för ett ökat näringsinnehåll. Ge dig samtidigt ett facelift och öka blodcirkulationen med Acu Cups och din nya Beauty- och fitnessrutin är komplett. RED bärpulver blandar du enkelt i din smoothie eller gröt, kolla gärna in våra recept!
Collagen Premium+ 80g
100% marint kollagen med dokumenterad effekt mot rynkor och celluliter samt ger ökad lyster i huden. Synliga resultat efter 8 veckor! Kollagen är hudens främsta vän. Från och med ca 25 års åldern börjar kroppens naturliga produktion av kollagen och elastin att minska och kollagenfibrerna blir svagare.

Red Bärpulver 80g

100% rent bärpulver från vilda, handplockade nordiska lingon, tranbär och röda vinbär. 
Röda bär innehåller Resveratrol (växtkemikalie) och är en naturlig virus och giftbekämpare! Ämnet motverkar angrepp av virus, svamp, bakterier och gifter. 
Lingon har en bevisad effekt på att bromsa fettupptagningen i kroppen enligt studier från Lunds Universitet!
För hela kroppen
Acu Cups
Använd för/mot:
» Face lift effekt
» Förminska rynkor
» Öka blodcirkulationen
» Ta bort överskottsvätskor
» Öka kollagenproduktionen
» Celluliter och bristningar
» Svullna och stickande ben
» Muskelspänningar
» Smärta och värk
En bra start på dagen!
Rosa smoothiebowl
2 dl växtmjölk
1 banan
1 msk RED Bärpulver
1 msk Collagen
lite frunsa jordgubbar
Kör i mixer, toppa med kokos och njut direkt!