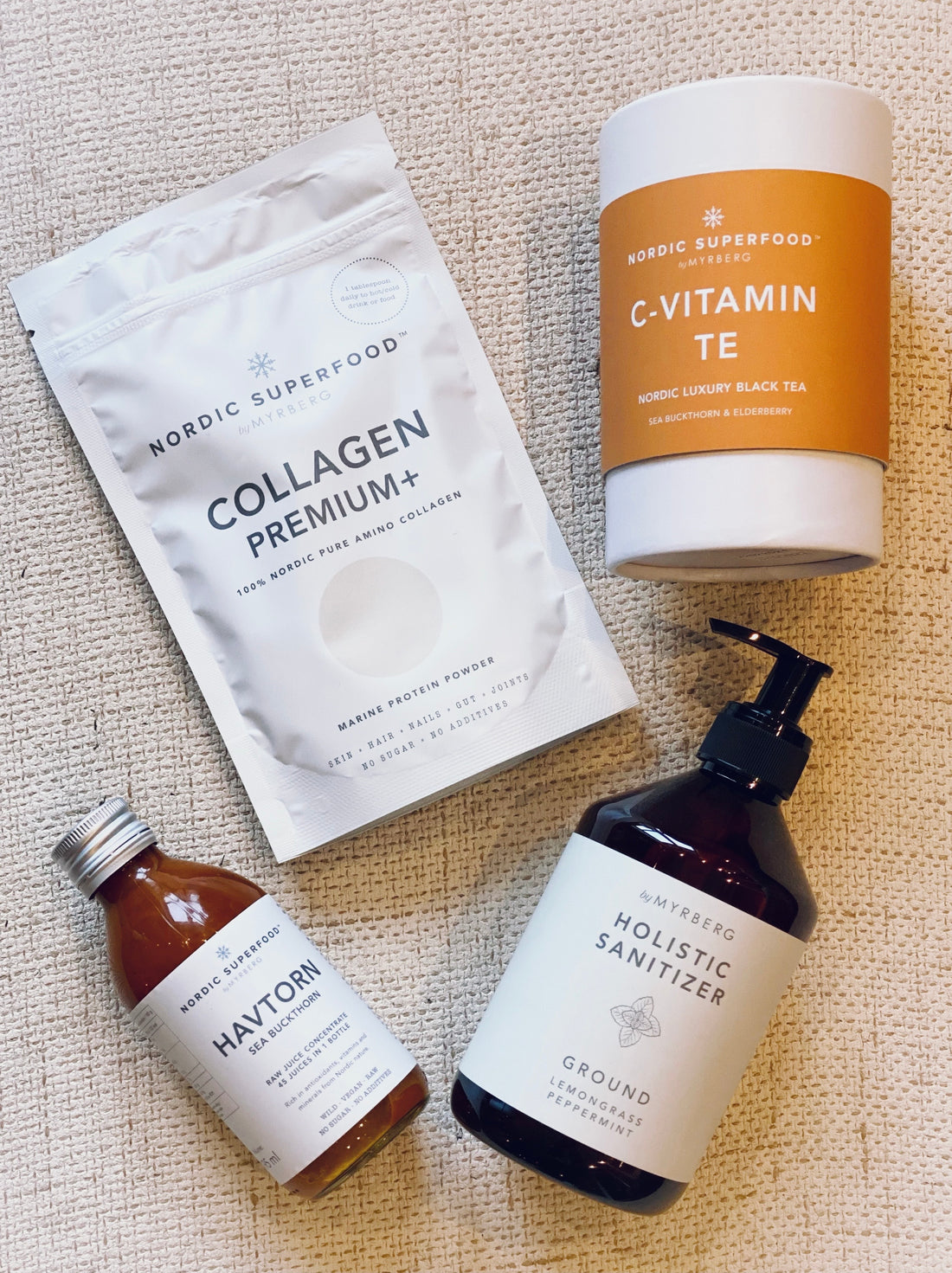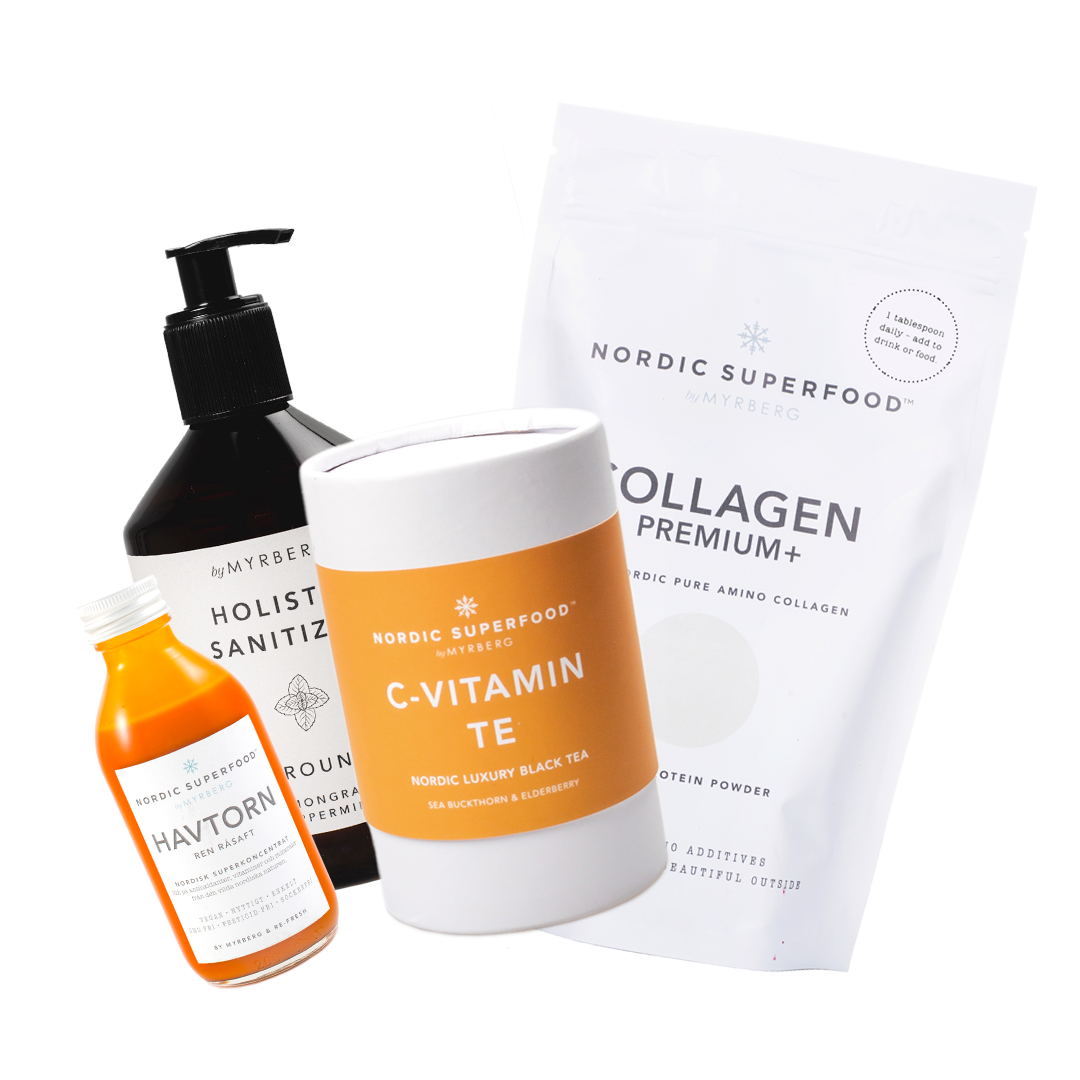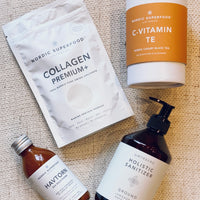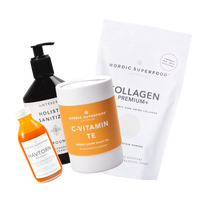 A package for you who want to optimize your immune system with pure vitamin C blast from the Nordic power berry Sea buckthorn.
You start of course with clean hands from our popular Holistic Sanitizer with genuine essential oils from lemongrass and peppermint. A scent you easily become addicted to! Then enjoy a hot cup of sea buckthorn and elderberry tea or mix the best SKINBOOST JUICE with Sea Buckthorn Raw Juice concentrate and Collagen. Your skin and body will will forever be grateful!
Sea Buckthorn Raw Juice Concentrate 195 ml
Highly concentrated raw juice from wild, hand-picked Nordic sea buckthorn. Sea buckthorn is rich in vitamins, especially vitamin C, antioxidants and omega fatty acids. But unlike other super berries, Sea buckthorn has high levels of omega 7, an essential fatty acid that works to repair, balance and hydrate the skin.
Holistic Sanitizer 500 ml 
Antibacterial, moisturizing and liquid luxury hand sanitizer that disinfects and is effective against bacteria and viruses. Contains Aloe Vera and scented with genuine essential oils of Lemongrass and Peppermint. 
Collagen Premium+ 175 g
100% marine collagen with documented effect against wrinkles and cellulite, promotes intestinal health, joints and connective tissue. Visible results after 8 weeks! Collagen is an important part of skin, hair, nails, ligaments and connective tissue. 
Nordic Vitamin C Tea
Nordic Luxury Black Tea, with sea buckthorn and elderflowers.
Använd bärpulver, råsaft och kollage i din vardagliga kost såsom i gröt, smoothies, som måltidsdryck och massa annat, använd receptboken som medföljer som inspiration! 
Yellow Bärpulver

100% rent bärpulver från vilda, handplockade nordiska havtorn, nypon och hjorton. Gula bär har ett högt innehåll av C-vitamin som stärker immunförsvaret och bidrar till att minska oxidativ stress. C-vitamin är bidrar till att öka produktionen av kollagen i huden.
Havtorn Raw Juice Koncentrat
Hög koncentrerad raw juice från vilda, handplockade nordiska havtorn. Havtorn kan ha anti-age effekter och inom kosmetika industrin används havtornsolja som anti-ageing i skönhetssyfte för att föryngra huden genom hudcellernas återbildning.
Holistic Sanitizer
Antibakteriell, återfuktande och flytande lyxig handsprit som desinficerar och är effektivt mot bakterier och virus. Doftsatt med äkta eteriska oljor av Citrongräs och Pepparmynta. Effektiv vid influensa, bihåleinflammation etc. dödar bakterierna på slemhinnorna och stimulerar nybildningen av antikroppar.
Strength Eterisk Olja
Strength stärker immunförsvaret, rensar luftvägarna och ger skarpsynthet. Eteriska oljor kan användas till massage, bad, bastu, doftspridare och rengöring.
Naturens vitaminer
För hela familjen
Våra bär-och bladpulver passar hela familjen och är ett enkelt sätt att "pimpa" sin vanliga mat med superfood! 100% rent pulver från vilda, handplockade nordiska bär och växter, helt fria från socker och andra onödiga tillsatser.
I den nordiska skogen växer bären i en vild orörd miljö. Dessa handplockas och rawfood torkas under 42 grader för att bevara de vitala näringsämnena. Kombinationen av de långa, hårda vintrarna och 24-timmars solljus under sommaren fyller bärväxterna med extra antioxidanter och vitaminer.
Bra för huden och immunförsvaret
SKIN BOOST JUICE
Recept från vår underbara Easy Detox Box.
Ingredienser:
1 msk Havtorn raw juice
2,5 dl Vatten
1 msk Honung
Gör så här:
Häll upp raw juice och honung i ett glas. Fyll upp med vatten och blanda till honungen smälter. Om du vill - toppa med gult bärpulver!