PRODUKTLANSERING
HOLISTIC BODY OIL
It´s not just another Body Oil.
djup effekt med kinesisk medicin och aromaterapi
Holistic Body Oil ger djupgående terapeutisk effekt på både kropp och själ. Varje olja innehåller en unik holistisk ritual med aromaterapi, andningsövning och akupressurpunkt som förklaras och visas i en video genom en QR kod på flaskan.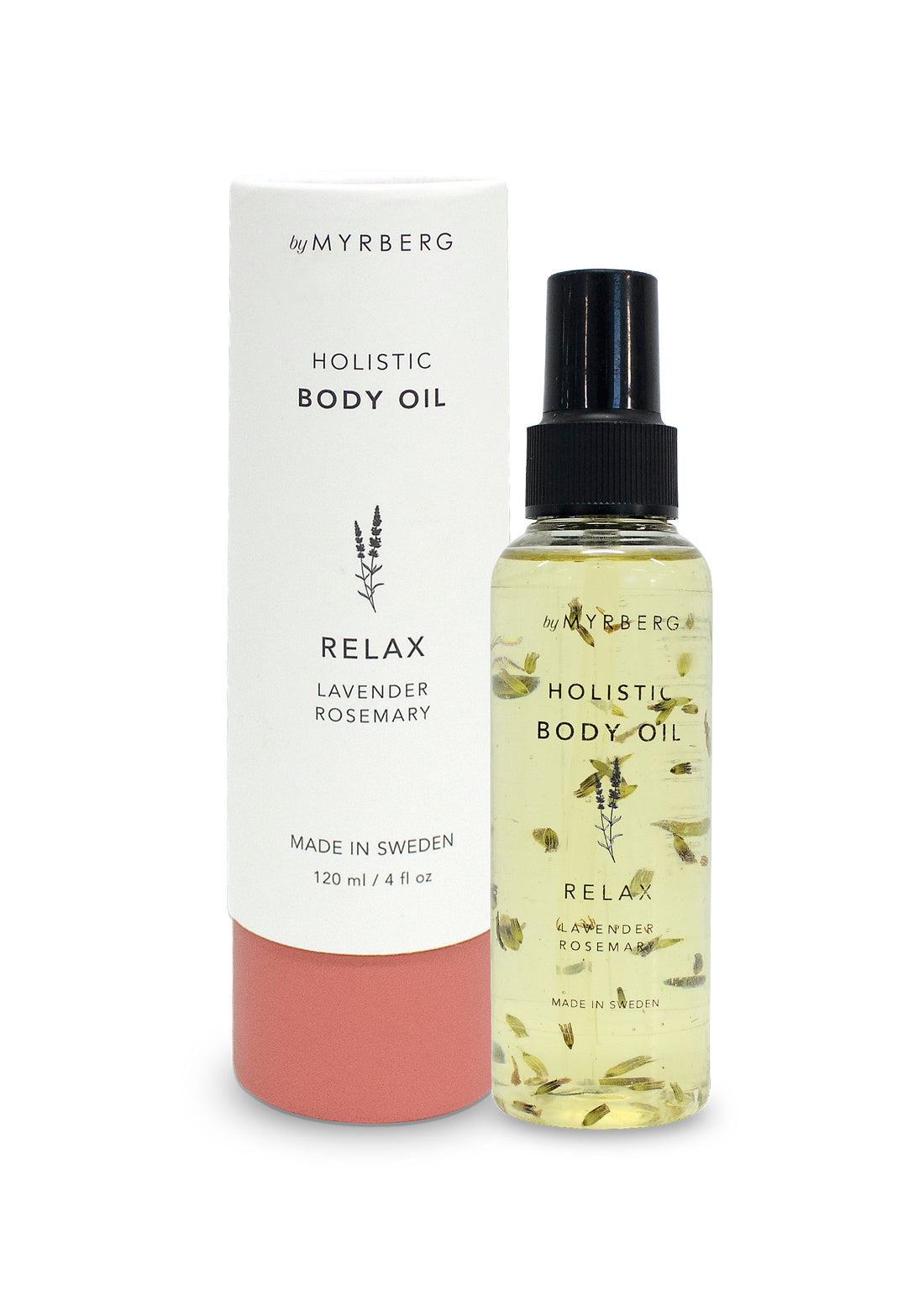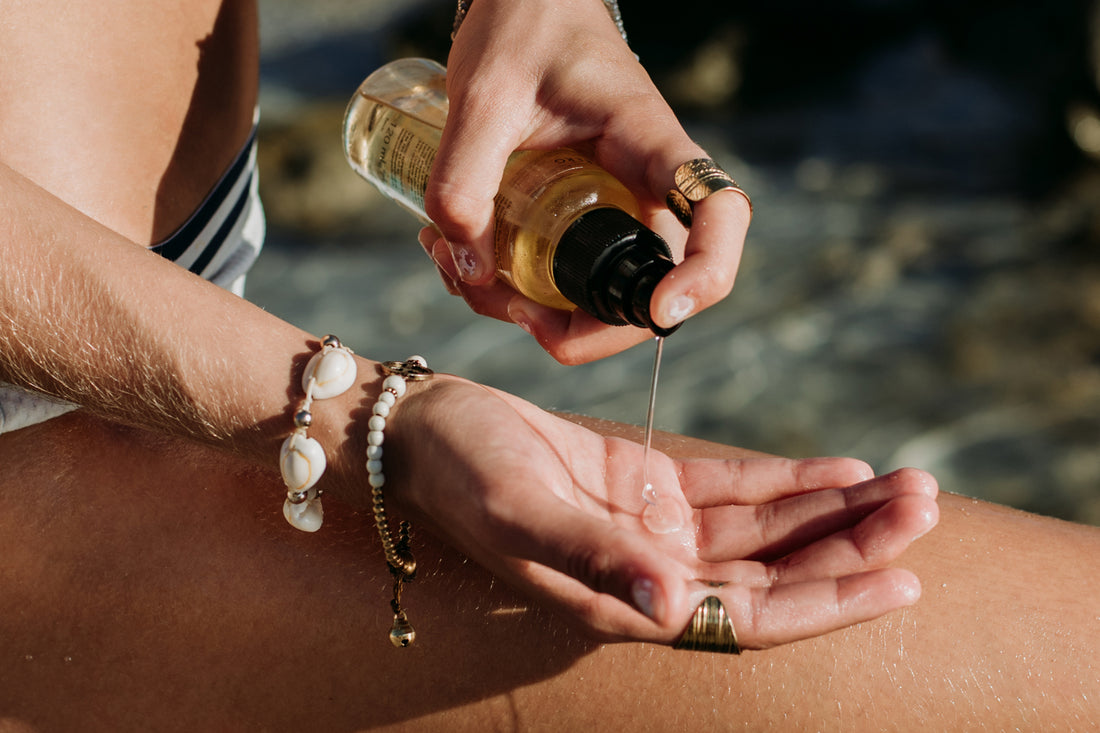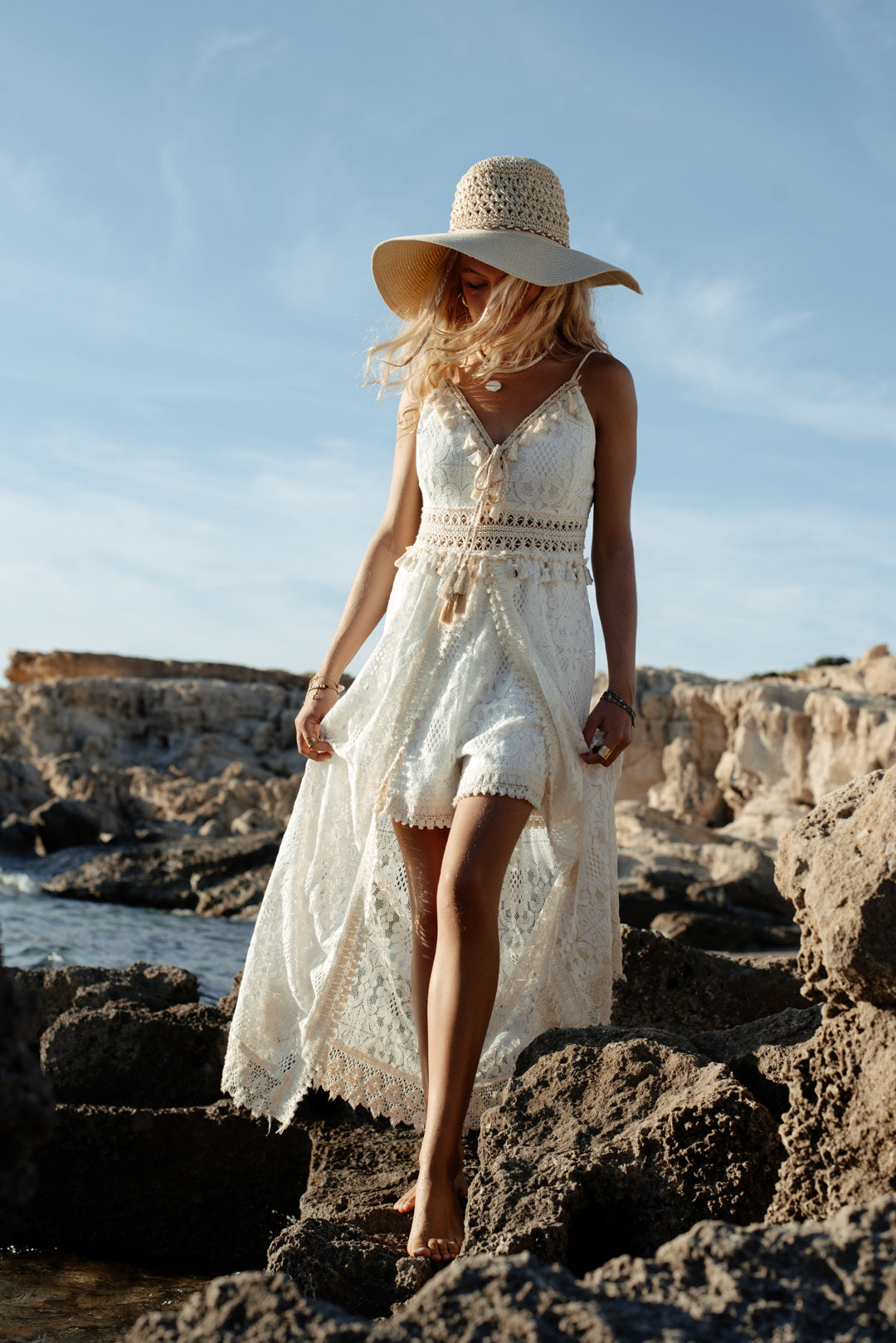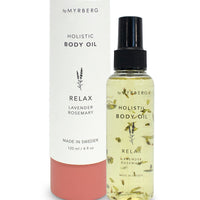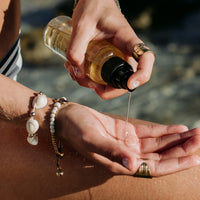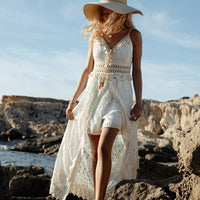 Holistic Body Oil - Relax 120 ml
Holistic Body Oil RELAX with 100% essential oil from Lavender & Rosemary.
Stiff muscles, stressed and hard to sleep? This oil is for you!

Effect: Has a calming and relaxing effect, provides focus and relieves pain and stiffness.
This is not just another Body Oil. It is a unique Body & Mind Ritual with 3 deep holistic steps which is explained and shown in a content video through the QR code on the bottle.

The Holistic Body Oil concept is based on Chinese medicine and aromatherapy and provides a profound therapeutic effect on both body and soul.

SCENT - Contains unique and exclusive 100% essential oils with different effects, which strengthen and balance body, mind and soul. They can improve the body's physical and emotional function.

TOUCH - Selected acupuncture points that you can press to deepen the effect for both body and mind.

BREATHE - Unique breathing exercise that fits the effect you want to achieve.

With Holistic Body Oil, it's easy to make your own daily wellness ritual and give yourself a holistic experience every day, according to your needs.

The RELAX ritual is based on TCM (Traditional Chinese Medicine) and the doctrine of the five elements. This ritual stimulates the HEART and belongs to the element FIRE. 
Applicera gärna på lätt fuktig hud efter bad eller dusch. Används som kroppsolja, för massage eller i badet. Ger huden en silkesmjuk känsla och återfuktar samtstärker hudens barriär.

Använd de holistiska verktyget som du får via QR koden på flaskan för djup, holistisk effekt.Oljan består av veganska premiumoljor så som ekologisk jojoba- mandel och tistelolja, sheasmör samt antioxidanten E-vitamin som skyddar huden mot fria radikaler.

För extra effekt emot smärtor, celluliter, rynkor och fina linjer rekommenderas att använda våra Acu Cups. Acu cups är sugkoppar du använder för att stimulera din hud, bindväv, muskler och lymfsystem. Acu Cups set innehåller 4 koppar i olika storlekar med instruktioner. De två mindre kopparna är för ansiktet och de två större kopparna är för kroppen.
Carthamus tinctorius seed oil (Tistelolja/Tidselolie/Safflower Oil)

Helianthus annuus seed oil (Solrosolja/Solsikkeolie/Sunflower oil)

Prunus amygdalus dulcis oil (Sötmandelolja/Sødmandelolie/ Sweet almond oil)

Brassica campestris seed oil (Ekologisk rapsolja/ Økologisk
rapsolie/Organic Rapeseed Oil)

Butyrospermum parkli butter (Sheasmör/Sheasmør/ Shea Butter)

Simmondsia chinensis seed oil (Jojoba olja/olie/Jojoba Seed Oil)

Lavandula angustifolia oil (Lavendel/Lavender Oil)

Litsea Cubeba Fruit Oil (Litsea Cubeba/May Chang Oil)

Rosmarinus Officinalis Leaf Oil (Rosmarin/Rosemary Oil)

Linalool
Citral (Citrus)
Tocopherol (Vitamin E)
Limonene
Geraniol
Citronellol
Aromaterapi med veganska premium oljor
Holistic Body Oil innehåller den högsta kvaliteten av utvalda 100% naturliga och veganska premiumoljor som jojoba, mandel- och tistelolja, sheasmör och ger din hud en silkeslen känsla, härlig lyster och glow.
Har fantastiska antiinflammatoriska och återfuktande egenskaper. Tillför huden vitaminer och näringsämnen som stärker hudstrukturen och kan bidra till att minska ärr och hudbristningar.
Oljorna är doftsatta med våra exklusiva eteriska oljor från bl.a lavendel, rosmarin, citrongräs, pepparmynta och apelsin som fördjupar effekten och kan vara
med till att förbättra kroppens fysiska och känslomässiga balans.
INNOVATION i spa och skönhetsbranschen
Holistic Body Oil konceptet är baserat på kinesisk medicin och aromaterapi, som ger djupgående terapeutisk effekt på både kropp och själ.
"Med Holistic Body Oil är det enkelt för hela familjen att göra sin egen dagliga wellnessritual och ge sig själv en unik holistisk upplevelse varje dag, allt efter ditt behov."

- Linda Myrberg, Grundare
SCENT
Varje Holistic Body Oil innehåller en blandning av utvalda exklusiva eteriska oljor som ger aromateraputisk effekt. Eteriska oljor har använts i tusentals år och utvinns ur exotiska blommor, träslag och kryddor samt används för att balansera, lugna och stärka kropp och sinne.
BREATHE
Unik andningsövning som passar den effekt du vill uppnå. 70% av vår energi kommer ifrån vår andning. Genom att djupandas på olika sätt, påverkar du din energinivå och kan bli lugnare, piggare, få bättre sömn och en friskare kropp.
TOUCH
Utvalda akupressurpunkter som hör till varje olja och fördjupar effekten av den. Akupressur är en behandlingsmetod inom kinesisk medicin, där
man genom tryck på olika punkter, stimulerar kroppens energibanor och kan återskapa balans i kroppen.
På så sätt kan man, enligt kinesisk medicin, hjälpa kroppen att läka sig själv.