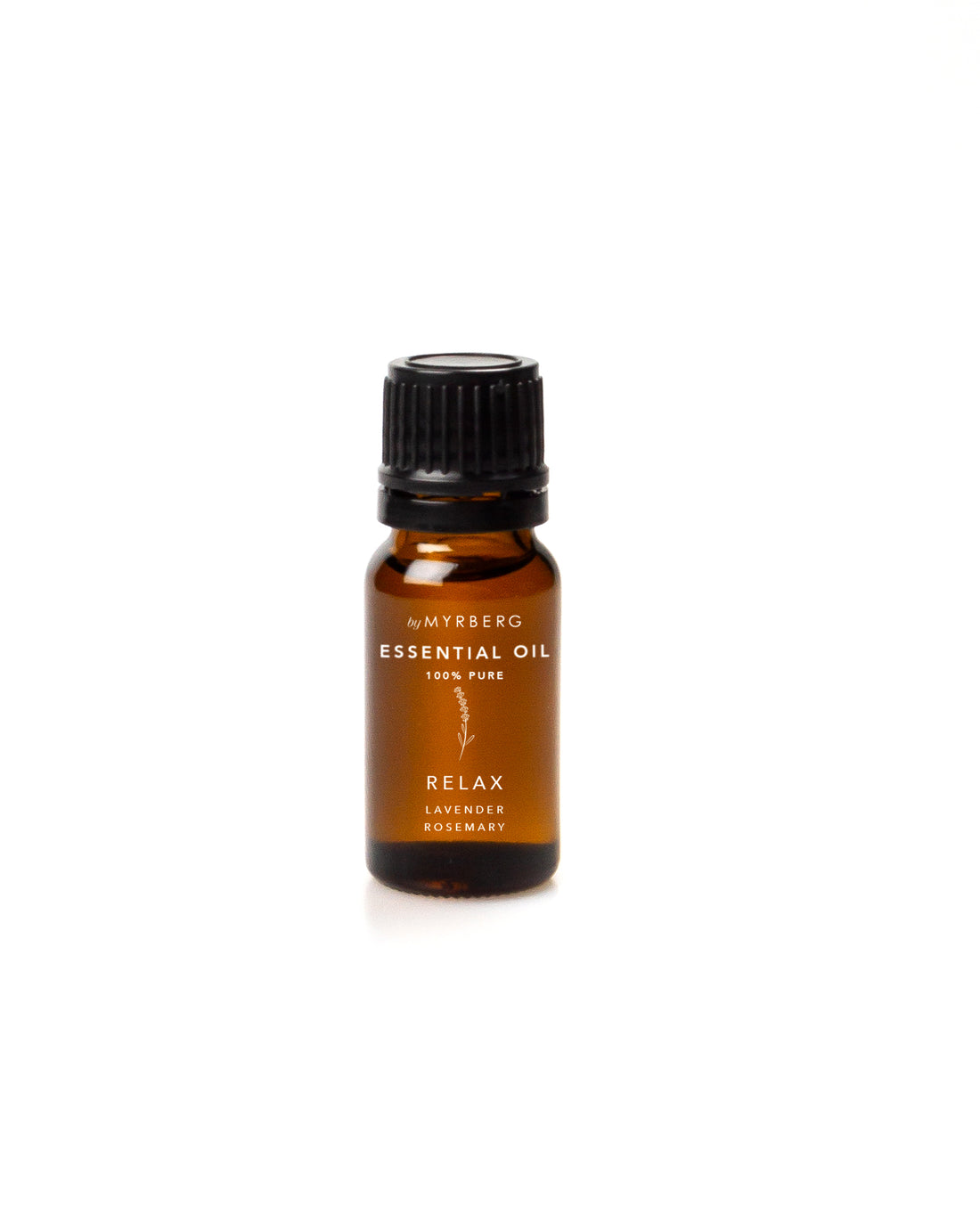 Relax Essential Oil 10 ml
Too much work and hard to sleep? This product has a calming and relaxing effect, provides focus and relieves pain and stiffness.
LAVENDER AND ROSEMARY
Lavender is the "universal oil" that is good for muscle pain, headaches, cellulite, burns, damaged skin, etc. Good for sleep problems. Stabilizes both the heart and the nervous system. Rosemary is pain-relieving for muscle pain, nerve pain, rheumatic pain. Stimulates and calms physical and mental fatigue and concentration difficulties.

Advantages of RELAX
Can be good for high blood pressure
Good for problems falling asleep
Good for stress and stress-related problems
Mentally relaxing and calming
What are aromatherapy and essential oils?
Aromatherapy means "healing through the smell" Essential oils are natural plant extracts, which are considered to affect not only the skin locally, but also the entire hormonal system, muscles, circulation, digestion and the internal organs. Essential oils are usually extracted by water distillation from flowers, stems, fruits, bark, buds, branches and roots. One can see aromatherapy as part of herbal medicine.
NB! Essential oils are highly concentrated and must be diluted with a neutral oil, such as almond oil, in order to be applied to the skin.
Use: approx. 20 drops are mixed with 100 ml of massage oil or lotion. 10 drops in the bathtub or in 2.5 liters of water for the sauna. 2-4 drops for aroma lamp/scent diffuser. 
By Myrberg's Holistic Essential Oil Blends!
For over 10 years, Linda has worked and developed these 7 essential oil blends with a profound effect on both body and mind. 5 of them are based on Chinese medicine and affect different meridian paths (energy paths) in the body and belong to a natural element that affects different organs and their function. 
Ca 20 droppar blandas med 100 ml massageolja eller lotion. 10 droppar i badkar eller i 2,5 liter vatten till bastun. 2-4 droppar till aromalampa/doftspridare.
OBS! Eteriska oljor är mycket koncentrerade och måste spädas med en neutral olja, tex mandelolja, för att kunna appliceras på huden.
Droppa ett par droppar på en liten bit papper, sug upp papperstussen med dammsugaren så sprids doften i hemmet när du städar.
Du kan också droppa en droppe på en bit papper och lägg på tvätten när den ska torktumlas, tvätten doftar ljuvligt!

Lavandula Angustifolia Oil, Rosmarinus Officinalis Flower Oil, Liitsea Cubeba/May Chang
Eteriska oljor från växtriket
Doft med effekt
Vad är Aromaterapi?
Aromaterapi är användning av terapeutiska oljor som utvinns ur naturliga växtmaterial för att främja hälsa, balans och välbefinnande. Aromaterapi har använts i århundraden till för att styrka kroppens välmående, ge avkoppling eller energi t.e.x. Det härstammar från vår första naturmedicin och är det som hjälpt läkekonsten till att utvecklats till det den är idag.
Ingredienserna kommer direkt från naturen.
Både doft och funktion
Aromaterapi betyder "att läka via doften" Man använder sig av eteriska oljor som är naturliga växtextrakt, som anses påverka inte bara huden lokalt, utan även hela hormonsystemet, muskulaturen, cirkulationen, matsmältningen och de inre organen. Eteriska oljor extraheras oftast genom vattendestillation från blommor, stjälkar, frukter, skal, knoppar, grenar och rötter. Man kan se aromaterapi som en del av örtmedicin.
Eteriska oljor har både doft och funktion! Sedan urminnes tider har de använts för att skapa dofter och parfymer och för sin naturmedicinska verkan. Eteriska oljors kraftiga koncentration gör att endast en mycket liten mängd räcker långt.
En eterisk olja är en råvara som används i hudvård, parfym och aromaterapi i väl avvägda doser. Oljan utvinns från en blommas blad, fruktens skal eller andra växtdelar och är fullpackade med läkande energi. Blanda ut oljan i en neutral kroppsolja, i bastuvatten, i badet, eller i en aromalampa.
Använd aromaterapi enkelt i vardagen
Linda har genom över 10 år arbetat och utvecklat dessa 6 eteriska oljeblandningarna med djup effekt på både kropp och sinne. 5 av dem är baserade på kinesisk medicin och påverkar olika meridianbanor (energibanor) i kroppen och tillhör ett naturelement som påverkar olika organ och dess funktion.